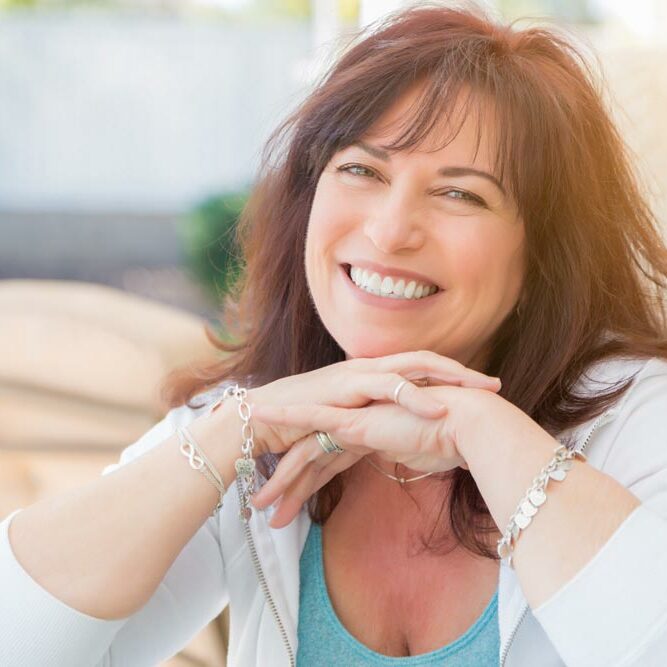 At Main Street Dental Smiles, we specialize in creating healthy, beautiful smiles. We are pleased to offer a range of cosmetic dentistry solutions, including teeth whitening and dental veneers, to deliver the smile of your dreams. Here's a look at how these popular treatments enhance your smile and the differences between the two.
What Is Teeth Whitening?
Poor oral hygiene, staining foods and beverages such as coffee and berries, using tobacco products, and the natural aging process can leave your teeth looking dull and discolored. Trauma and certain medications can also result in stubborn tooth staining.
Teeth whitening involves the use of carbamide peroxide or hydrogen peroxide gel that enters through the tooth enamel, breaking down tooth stains and brightening your smile several shades in just one office visit. We are happy to offer in-office and at-home professional teeth whitening options to safely and effectively transform your smile.
Whitening is ideal for teeth yellowed by regular exposure to dark foods or tobacco products. However, discoloration resulting from trauma, excessive fluoride exposure in childhood (fluorosis), or the use of medications such as tetracycline may not respond to traditional whitening treatments. Moreover, whitening only works on natural teeth, so it will not remove stains off restorations such as crowns or bridges. If you are not a candidate for whitening, we may recommend other cosmetic dentistry options, such as dental veneers.
What Are Dental Veneers?
Dental veneers are wafer-thin, tooth-colored porcelain shells that cover the front surfaces of teeth to mask any flaws or imperfections. They are made to match the color, texture, and sheen of natural tooth enamel, delivering a seamless smile.
Porcelain veneers are ideal for covering severely stained or discolored teeth that do not respond to traditional teeth whitening treatments, instantly improving their appearance. They also address various cosmetic concerns, including chipped, cracked, misshapen, worn, misaligned, gapped, or otherwise not-so-perfect teeth. Porcelain veneers can create a more even bite, enhancing your oral health.
Porcelain veneers deliver strength and resilience comparable to natural tooth enamel. They require the removal of less tooth structure than other restorations, such as dental crowns, making them a more conservative option to transform the appearance of your smile. With proper care, your porcelain veneers will enhance your smile for 15 years or even longer!
Teeth Whitening and Dental Veneers Near Me in Whitesboro, TX
Visit Main Street Dental Smiles to learn more about our cosmetic dental treatments. From whitening stained teeth to correcting the size, shape, alignment, or overall appearance of not-so-perfect teeth, we've got you covered. Dr. Schilling and her team look forward to transforming your smile's health and appearance. Call our office at 903-564-3451 to schedule your appointment today!
Request Your Appointment Today!
Main Street Dental Smiles makes requesting your appointment easy. Fill out the form and we'll be in touch to set your appointment time. We can't wait to see you.