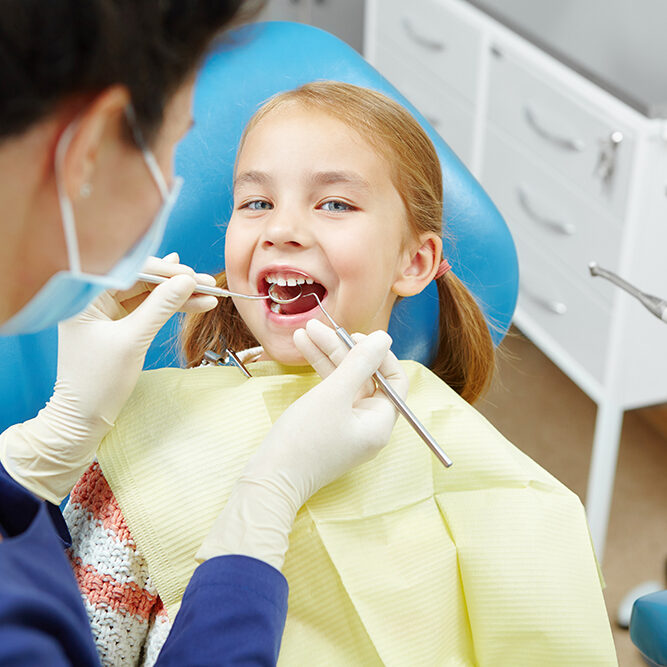 Caring for a child's pearly whites begins sooner than most parents are aware. Proper dental care at home and twice-a-year visits to the dentist work hand in hand to set the stage for a lifetime of healthy smiles. Our Main Street Dental Smiles team looks forward to providing our young patients with the outstanding, gentle care they deserve!
Why Should You Care for Baby Teeth?
Even though your child's baby teeth will eventually be replaced by permanent ones, it's essential to keep them healthy. Those tiny chompers help your child learn how to speak and make it easier to transition to solid foods. A decayed or painful tooth may interfere with eating and getting the nutrition needed for healthy growth and development. Moreover, early tooth decay may result in severe damage to the permanent teeth yet to erupt.
If your little one loses a tooth prematurely due to extensive decay or damage, the neighboring teeth may move toward the gap, leading to crooked teeth and problems with the bite, requiring orthodontic treatments down the road. Keeping those tiny teeth healthy right from the start will ensure your child's smile stays healthy into adulthood.
When Should Your Child's First Visit a Dentist?
The American Academy of Pediatric Dentistry recommends that your baby visit a dentist when the first tiny tooth arrives and no later than the first birthday. If your child is past that stage but hasn't seen a dentist, the best time to schedule a dental appointment is now. Our team will work alongside you to ward off dental disease and keep that smile healthy and sound.
After the first visit, we recommend routine dental exams and cleanings every six months. However, if you have any concerns or any dental problems develop between visits, contact our office right away. Signs it's time to take your child to the dentist include white spots on the teeth, ulcers or lesions, a bluish bruise where a tooth is coming in, or any other concerns.
What Happens During a Baby's First Dental Visit?
Your little one's first dental visit is an exciting milestone that we're thrilled to share with you. After greeting you and your child, we'll conduct a gentle yet thorough exam to make sure your child's teeth, gums, bite, and overall dental health and development are on track. We'll also discuss oral hygiene care, nutrition, pacifier use, teething, fluoride needs, and preventive care for long-term oral health. This is the perfect opportunity to ask any questions and let us know if you have any concerns.
Quality Pediatric Dentistry Services Near Me
Visit Main Street Dental Smiles in Whitesboro, TX, to learn more about our pediatric dentistry services. Dr. Schilling and her outstanding team look forward to working alongside you to establish the foundation for long-term healthy smiles! Call us and schedule your appointment today!
Request Your Appointment Today!
Main Street Dental Smiles makes requesting your appointment easy. Fill out the form and we'll be in touch to set your appointment time. We can't wait to see you.