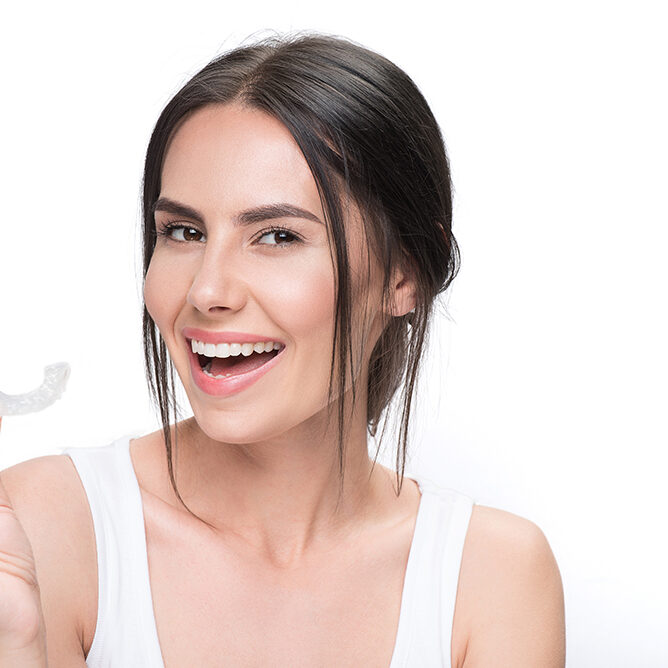 Clear aligners offer a discreet and effective way to straighten your teeth and perfect your smile without dealing with metal braces. Main Street Dental Smiles proudly offers two innovative options: ClearCorrect and Spark Aligners. Here's all you need to know about our virtually invisible aligner systems and how they work to straighten your smile.
How Do Clear Aligners Work?
Clear aligners all work similarly. They place precise, gentle pressure on your teeth to shift them into the desired position. You'll need to wear your aligner trays for at least 22 hours each day, only taking them out to eat or clean your teeth. You'll swap each aligner set for the next in the series about every two weeks, following your custom treatment plan.
ClearCorrect: ClearCorrect comes with a series of custom thermoplastic aligners that place slight pressure on your teeth to shift them to their desired position. The clear aligners remodel the underlying bone, delivering long-lasting treatment results.
Spark Aligners: Spark aligners utilize a series of aligners designed to your specifications using 3D computer imaging technology. They are produced with machine precision then hand-finished and refined to ensure a completely customized and exceptionally comfortable experience. As you wear each aligner set, your teeth will move incrementally into alignment.
What Conditions do Clear Aligners Correct?
Clear aligners can correct a range of orthodontic concerns, including gapped, crooked, or crowded teeth and problems with the bite, such as overbites, underbites, and crossbites. Whatever your orthodontic concerns are, our clear aligners likely have the perfect solution for you!
Why Choose Clear Aligners?
ClearCorrect and Spark Aligners offer an innovative solution to straighten your smile without dealing with wires that trap food or scrape the inside of your mouth. Clear aligners are incredibly comfortable and removable, meaning you can take them out to brush your teeth and enjoy your favorite foods without restrictions. Best of all, your virtually invisible braces will deliver your straight teeth and perfect smile without anyone ever knowing!
ClearCorrect or Spark Aligners?
The best way to determine the best orthodontic solution for you is to schedule a consultation with Dr. Schilling, our acclaimed prosthodontist. She will evaluate your smile's unique needs and recommend the best treatment option for you.
Clear Aligners Whitesboro, TX
Visit Main Street Dental Smiles to explore your clear aligner options. Dr. Schilling and her team look forward to working alongside you to deliver the smile you've always desired. Call us at 903-564-3451 to schedule your appointment today!
Request Your Appointment Today!
Main Street Dental Smiles makes requesting your appointment easy. Fill out the form and we'll be in touch to set your appointment time. We can't wait to see you.