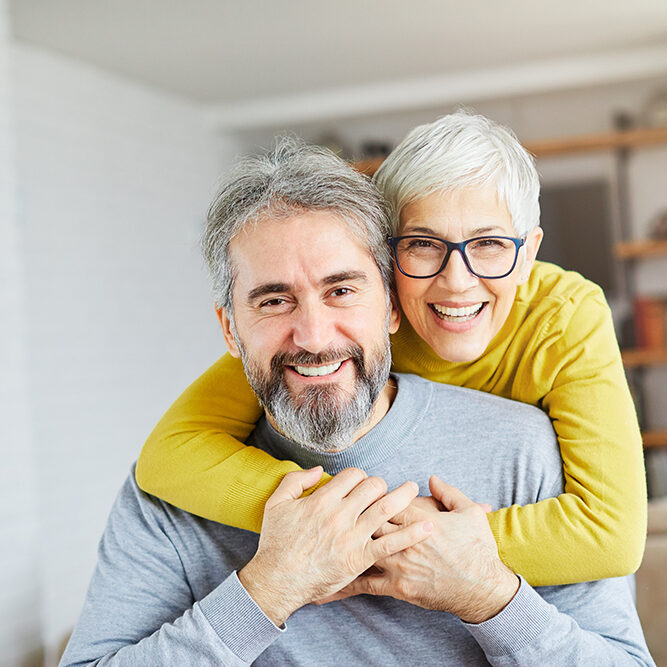 If you've been hiding your smile due to missing teeth, Main Street Dental Smiles is here to help. We are proud to offer state-of-the-art tooth replacement options, including dentures and partials. Your new restorations will leave you looking younger and will allow you to smile with confidence once again.
What Is the Difference Between Dentures and Partials?
Dentures and partials are intraoral devices we use to replace lost or missing teeth. These custom restorations, created using impressions of your mouth, provide excellent fit and comfort. Both options require a brief adjustment period, after which you may forget they are even there!
Complete Dentures: Dentures, also known as traditional, complete, or full dentures, are designed to replace an entire arch of missing teeth. There are two main types of complete dentures, conventional and immediate. If you choose conventional dentures, we will prepare them for you after removing any remaining teeth, and the tissue and bone in the areas heal. Waiting for healing ensures the best fit, comfort, and function. If you opt for immediate dentures, we will position them after extracting any remaining teeth. However, your bones and gums will change shape during the healing process, meaning that your immediate dentures will require adjustments and relining down the road.
Partial Dentures: Partial dentures are used to replace missing teeth when some natural ones remain. They consist of incredibly life-like prosthetic teeth attached to gum-colored resin bases. Partials typically connect to crowns placed on natural teeth or implants using metal frameworks and clasps.
Why Choose Dentures or Partials?
Today's dentures and partials are more cost-effective, comfortable, and natural-looking than ever before. Restoring a complete set of functional teeth will allow you to speak clearly, chew with ease, and enjoy your favorite foods once again! Your restorations will prevent any remaining teeth from shifting out of alignment, preserving your bite, and enhancing your oral health. Best of all, you'll maintain your youthful facial contours and will smile with confidence once again!
Why Choose a Prosthodontist to Restore Your Missing Teeth?
Prosthodontists are dentists with three years of specialized training following dental school. Their advanced education focuses primarily on the restoration of lost or deficient teeth. Trusting your smile to a specialist will ensure you enjoy superior tooth replacements!
Dentures and Partials in Whitesboro, TX
Visit Main Street Dental Smiles to learn more about restoring your teeth with dentures or partials. Dr. Schilling, our acclaimed prosthodontist, utilizes cutting-edge technology and techniques to deliver beautiful, functional smiles. Call us at 903-564-3451 to schedule your appointment today!
Request Your Appointment Today!
Main Street Dental Smiles makes requesting your appointment easy. Fill out the form and we'll be in touch to set your appointment time. We can't wait to see you.